Tag: 'layout'
A decoration for Aortta Party by Hytky. Max/MSP listened for a beat and triggered Arduino, which in turn controlled an electric motor. The motor had a rod attached to it, and a cardboard heart was taped to the tip of the rod. The position of the rod was monitored with a hall sensor. Heart struck against a thin veil, which was illuminated with red light from behind.
Video: Oskari Niitamo.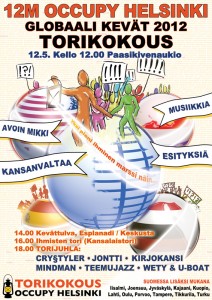 The poster needed to convey the feelings of immediacy, internationality and determination, and especially the principle of universal humanism to which the so called Occupy movement is built on.
In the poster the main lines of history of the movement is presented all the way to the occupying of Finland. Besides the poster acts as the timetable for the event.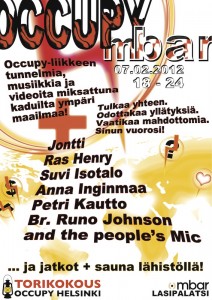 Occupy Helsinki organized a support event at a local bar. The event displayed audiovisual productions of the global occupy movement and brought the street atmosphere into a bar environment.
The humanist objectives of the movement needed to be separated from the classical leftist visual style. The occupy movement is non-violent and all encompassing struggle against selfishness.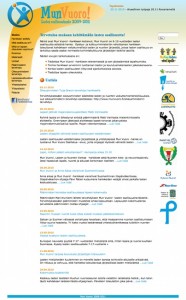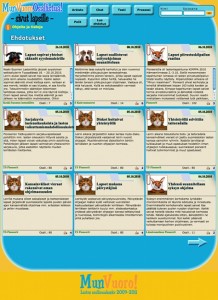 MunVuoro! (MyTurn!) campaign is a joint participatory project of eight Finnish organizations for children and youth. The main purpose is to develop methods for child participation and to support education for democracy
The website consists of the main informational pages for organizers and interactive pages for children. The target group are children aged 6 to 12.
The site was realized with the WordPress CMS.
A selection of graphical works and image manipulations.
Poverty is in your hands
We can all contribute to the flow of giving and sharing. If the channel is broken the ones below are the first to suffer.
All of the power is in our hands. You should be free to to do with them what ever you wish for. Why is it that we cannot give from what we have? Is it because we feel that we are too poor, or is it because we are selfish, or do we already barely live from what we can get.
How come so much is wasted then? The ones in the bottom live from the waste that is thrown away… Equalizing the flow means less wasting and more giving, a better life for everyone.
Poverty touches all levels of life, not just the poor. That poverty exists means that we are all poor. The ones who give are the richest of the world.
This poster is the call for action, and a sad display of today's reality – but there's hope too.
The campaign website. If you have a Facebook account you can vote for (like) the image here in the campaigns competition album. The voting is on until August 31st.